I Can Tell I'm Feeling Better,
Because I'm a bit discontent with my surroundings. I've had the same wall color for 10 years, and while my home looks perfectly fine...I want a change. New paint for sure. Maybe some new furniture...and a new rug....and accessories...yeah, the I wants never end. For fun I thought I'd give you the $$ break down on my family room as it is now, (because it's something that always interests me on other peoples blogs.)
Here we have my family room. It was a dark cave when we bought the house, so we had 2 sola tube skylights installed, thereby saving my sanity. I like light. The tile...I really don't like. It came with the house and is a greyish white with a stippled rust border and rust colored grout. Oh, and the three adjoining rooms that it's in, well each room has the tile laid in a different pattern. The wall with the big mirror used to be beat up dark wood paneling and had a regular rectangular door and door opening; we took care of that. The ceiling was crumbling popcorn with 11 pot lights in it. The walls were builder white. Despite the fact the house was built in 1968, it had never been painted.
Brewier and I scraped the popcorn off the ceiling, took out the pot lights, and painted it bright white, then I painted the walls the same color I had in my previous family room, Ralph Lauren's, "Crested Butte." My stepfather, Dick, and I put up the crown moulding, (we did the entire house,) and I love it. The moulding adds so much to a room, and because it's mdf, it was a very inexpensive project.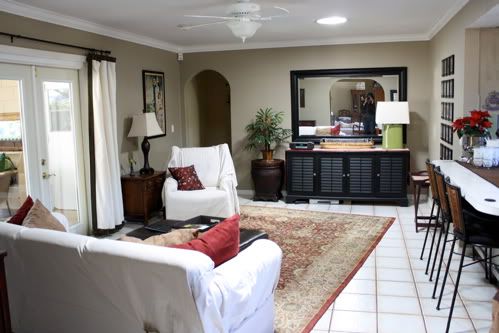 Here is the other view of the room. We took out the single pocket door and put in a double wide arched doorway here. I like having all the main living areas open to each other. (See my bed on the floor of the dining room? Long story.)
Now, I'll give you a break down my decorating costs.
The Duncan Phyfe buffet was a steal at $25. The 3 wooden candle sticks were $5 and the vintage framed print was $45. The sofa is 22 years old, a handme down from my mom. The slip cover was a brand new Pottery Barn cover that I found on ebay for $20!! The pillows look like P.B, but are from Costco. $30 for all of them. The little antique side table, $10, the leather ottoman was $250, from Overstock. The curtains were $2 an panel at a garage sale, (3 panels total,) but shrunk when I washed them, so I edged them in some dark green fabric that I already had. The silver lamp was $45 at Old Time Pottery.
The chair was another hand me down from my mom. I bought a bedspread to act as a temporary slip cover...that was fifteen years ago. The side table was $15, the lamp $40 and the silk pillow, $20. Opposite the chair are 20 picture frames, $1 each with vintage luggage labels stickers in them, about $15 worth. Underneath the frames is a $3 tray table.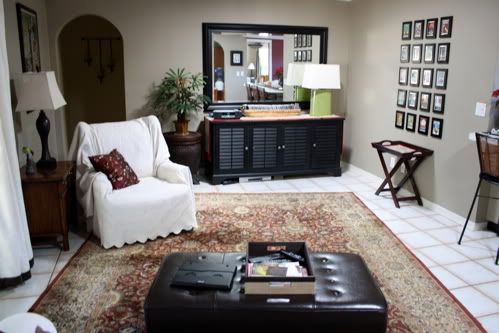 This is our entertainment center. It was $45, and UGLY when we got it at a garage sale. Think 1970's faux early American pine. Brewier couldn't understand why I would want it, but he trusts my vision and is willing to paint things for me. :) Next to it is a $10 basket/table where we store extra blankets and pillows. On top is a $12 plant. The mirror was a Costco find, $145 I think. The lamp was $5 and the basket that holds my cd's was given to me, (thanks Allison!)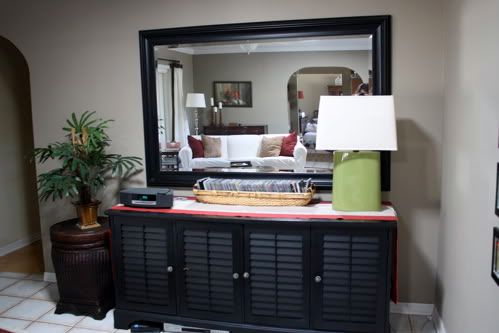 Everyone always asks where our (hand me down from my mom,) tv is. It fits perfectly in here.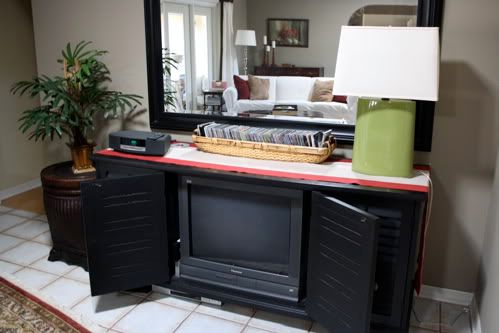 And now, the biggest and most expensive obstacle to my redecorating. The 9x12, hand knotted wool rug. Its beautiful and is meant to last a life time...and the price reflects that. It was somewhere in the $1200-$1500 price range, which was actually an excellent deal, but the red really dominates the room. I'm showing you both sides of the rug so you can see how beautiful and well made it is.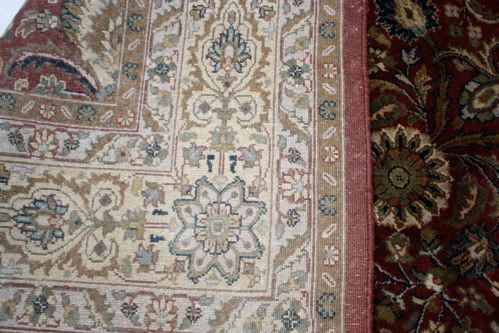 So there you have it. My Family room as it is now. Did I mention that all the other rooms tie in to the same color scheme? yep, change one room, change them all. Hmmm.